Fiber Optic Components and Peripheral Products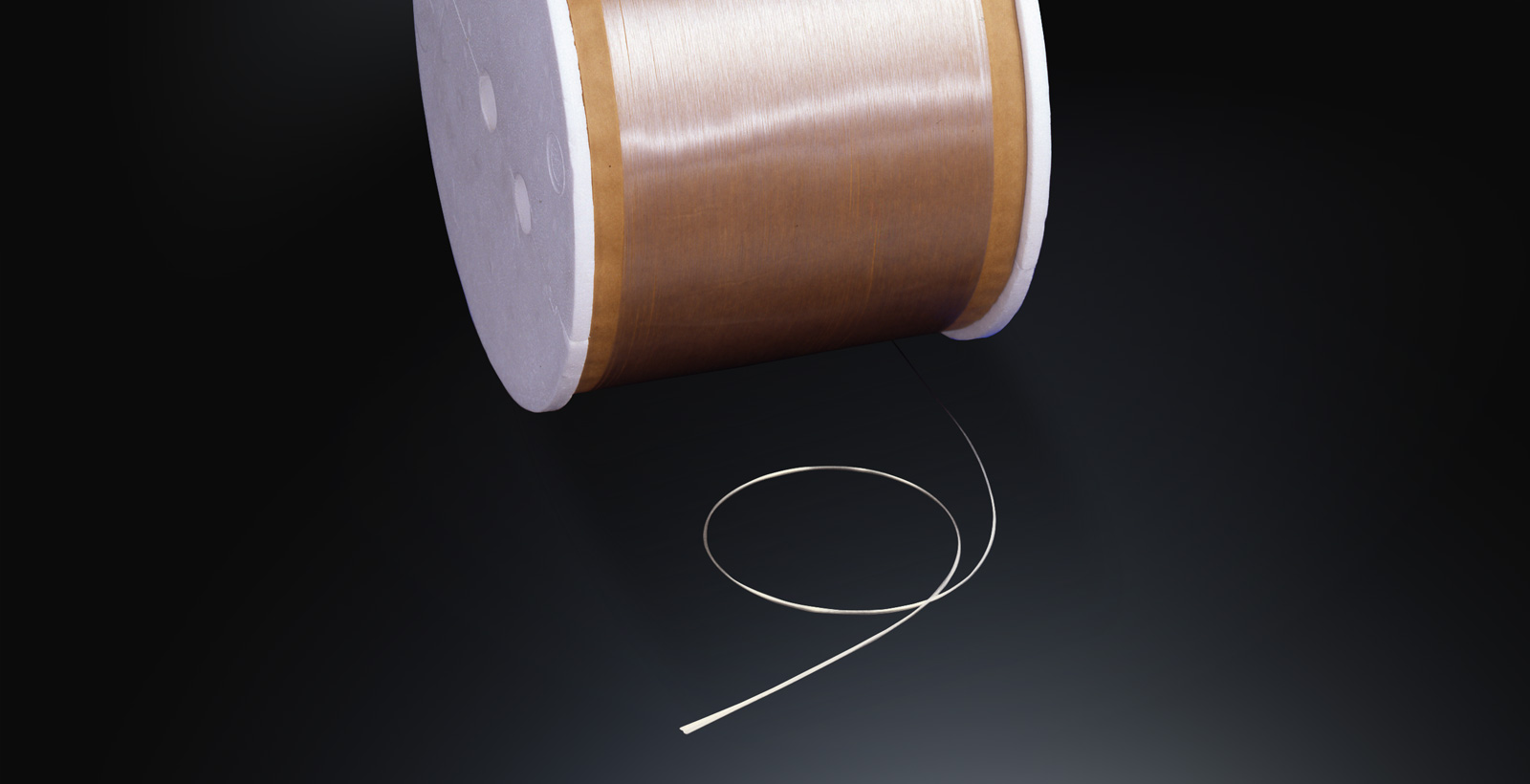 Fiber Optic Bare Fiber
SUMITA's bare optical fiber is made of multi-component/borosilicate glass fiber drawn from our original glass materials.
Specifications & Property
Numerical aperture (NA) and opening angle of fiber optics are calculated by refractive indices of core and clad material. The equation is as follows:

We, SUMITA, offer 7 kinds of fiber optics by the difference in opening angles.
Fiber Types and Specifications
Wavelength
Material
Type of fiber optics
Numerical Aperture (NA)
Opening angle (2θ)
Property
Visible
Borosilicate glass
SOG-120C*
0.87
120°
Capable of illuminating a large range in short working distance. Ideal for a wide-range illumination (e.g. light guides).
SOG-100
0.77
100°
Having a wider NA than the standard product (SOG-70S), SOG-100 can illuminate a relatively larger range. Suitable for a wide-range illumination.
SOG-70S
0.57
70°
Having a standard NA and an excellent transmittance, SOG-70S can transmit light to relatively long distance.
SOG-35C*
0.29
35°
Having relatively lower NA than the standard product (SOG-70S), SOG-35 can project light into a tighter area. Optimal for illumination for small and narrow areas, as well as for optical sensors.
SOG-15
0.13
15°
N.A is smaller than that of quartz fiber. The main distinguishing feature of SOG-15 is its narrow NA compared to that of quartz fibers. Ideal for lighting a specified area precisely (e.g. optical sensors).
Plastic
SOP-20
0.50
60°
Core diameter: 486 um, clad diameter: 500 um (20 mil)
Economical, excellent bending resistance, and low temperature resistance.
NIR (Near IR)
Borosilicate glass
SOG-70SIR
0.57
70°
Excellent transmission at 1100- 1350 nm compared to SOG-70SIR.
UV
Borosilicate glass
ST365-35
0.29
35°
Usable borosilicate glass fiber for UV light (365nm)
Complex light guides available with thinner diameter than silica fiber
Fused silica glass
SOQ-200
0.22
25°
Core diameter: 200 um, clad diameter: 208 um, jacket diameter: 240 um
Fused silica glass fiber with excellent transmittance in ultraviolet region.
* SOG-35C/SOG-120C has improved transmittance in short wavelength compared to the previous model SOG-35/SOG-120S.
What is Fiber Optics?
Structure and Principle
An optical fiber used in light guides consists of a core surrounded by a clad layer (see Figure 1).
- Core is made of optical glass which has an excellent transmission property.
- Clad is made of weather-resistant glass, and works as a covering material.
This structure of fiber allows light to travel along the fiber through repeated total internal reflections* inside the core from one end to the other.
Total internal reflections is the phenomenon that reflection of the total amount of incident light at the boundary between two media (see Figure 2). The phenomenon occurs at the boundary between two mediums having different refractive indices, such that if the incident angle in the first medium is greater than the critical angle, then all the light is reflected back to that medium.
Figure 1. Structure of fiber optics
Figure 2. Principle of Total Internal Reflection n1>n2 (n: refractive index)
Borosilicate glass
Transmittance by Length

Measurement conditions

Measurements are based on light guides which have bundle diameter of 5 mm, individual fiber diameter of 50μm. Core ratio of the fiber is 70% approximately.

Comparison of Transmittance by Glass Types

Measurement conditions

Measurements are based on light guides which have bundle diameter of 5 mm, individual fiber diameter of 50μm. Core ratio of the fiber is 70% approximately.

Transmittance by Length of SOG-70SIR
(NIR Optical Fiber)

Measurement conditions

Using light guides which have bundle diameter of 5 mm, individual fiber diameter of 50μm. Core ratio of the fiber is 70% approximately.

Transmission Curves

Measurement conditions

Bundled Diameter 4mm x length 1000mm


*ST365-35/SOG-70S: Individual diameter 50μm Silica fiber: Jacket diameter 240 μm
Fused silica glass/ Plastic fiber
Comparison of Transmittance by Material

Measurement conditions

Light gude bundles which diameter of 2 mm, and total length of 1000 mm are used

Transmission Loss (Fused silica glass fiber)

Measurement conditions

SOQ-200(fused silica glass fiber) is used
Downloads