Optical Devices/Assembles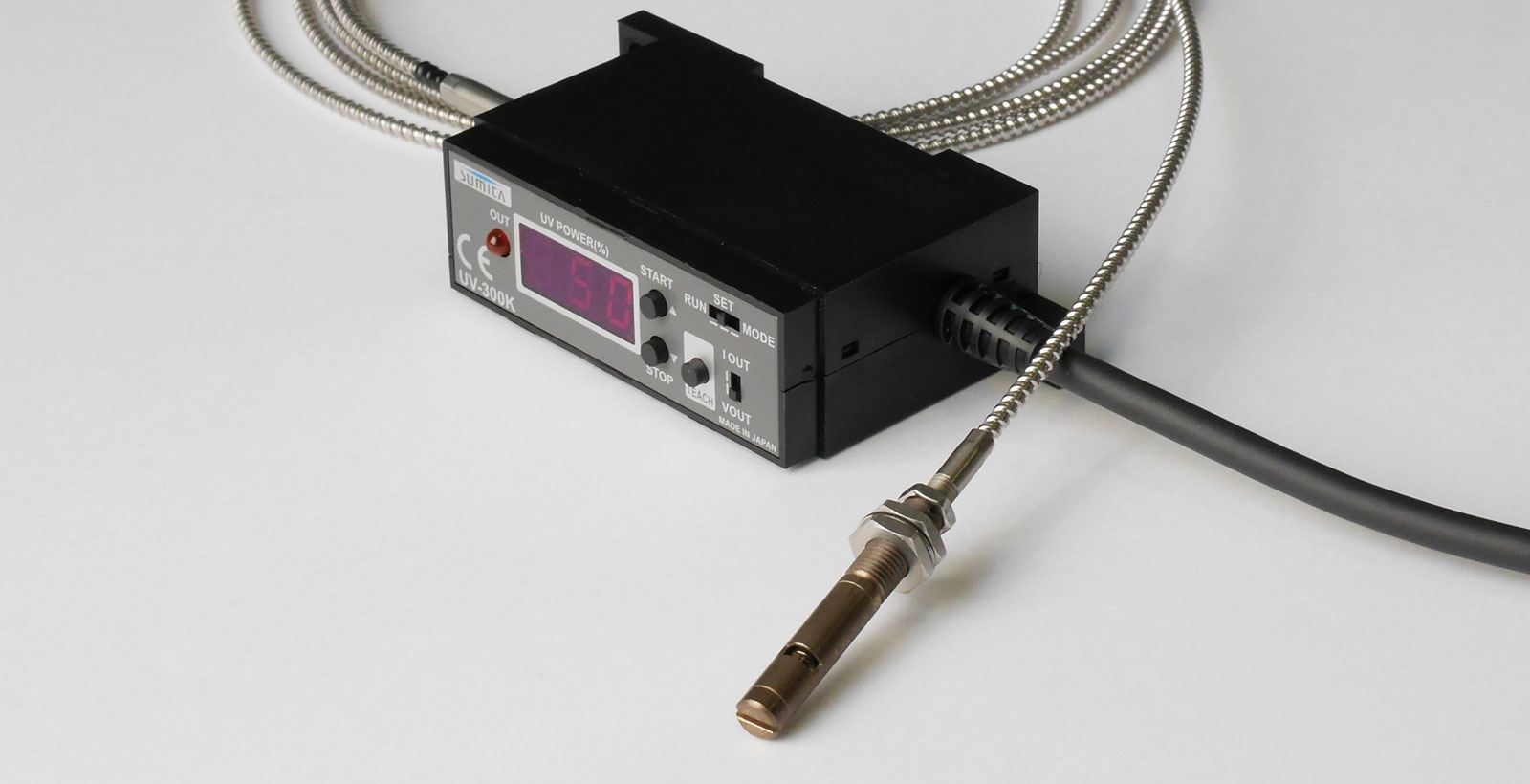 UV Power Monitor/Sensor


UV-300K

Ideal for continuous monitoring of output state of UV
UV sensor picks up and displays the ultraviolet rays that eye is unable to perceive. It is a device used for continuous monitoring of UV light intensity. Since SUMITA's ultraviolet to visible wavelength conversion glass is used in UV-300K, its reliability is high, and it is an optimum sensor device for line inspection in production process. UV-300K enables detecting UV lamp's deterioration and lighting failure.
SUMITA's UV sensor/monitor UV-300K features:
Highly durable glasses are used for converting ultraviolet to visible light wavelength
Monitoring wavelength range: 170- 380 nm
Feedback UV lamp's light intensity variance
Two operating modes provided: light intensity mode and integration mode
Analog voltage output: voltage (1 - 5 V) and current ( 4 – 30 mA)
Sensitivity setting by teaching
Answer-back output function
The optimum sensor head selectable for the wavelength employed
Simple operation
Applications
Semiconductor manufacturing devices
Disinfection and sterilization
UV curing
Lighting
Printing
Air cleaning
3D printing
Medical applications
Structure of UV-300K

Usage Examples
Lithography Systems

Disinfection and Sterilization
Specifications
Amplifier Unit
Model
UV-300K
Operation indicator light
Red LED(lit when output detection is ON)
Measurement range in power *
[254nm] 0.1 – 30 mW/cm², 0.01 – 3 mW/cm² (high sensitivity head)
[365nm] 3 – 900 mW/cm², 0.3 – 90 mW/cm2 (high sensitivity head)
External teaching input
External reset input
ON:0 - 1.5 V(0 V short circuit current ≦1 mA)
OFF:Open or 4 - 30 V
Light intensity value display (relative value)
3-digit LED
Light intensity mode:0 - 125%
Integral mode:0 - 200%
Detection output
Answer back output
NPN open collector(DC 30 V, 100 mA or less)
Analog output
Voltage/current switching with a switch
1 – 5 V(0 - 100%, 6V /125%)
4 – 20 mA (0 - 100%, 24 mA /125%)
Detection output
Threshold value setting
Set % value by 1% with a switch
Light intensity mode: 10 - 100%
Integral mode: 10 - 200%
Sensitivity setting
Teaching sensitivity (set to 100%)
Lowest sensitivity, highest sensitivity, zero-point setting
Cable
0.15 mm² shielded 7 core cabtyre cable 5.5 mm diam. ×2 m
Repeat accuracy
±2% F.S. or less
Temperature drift
0.1% F.S./℃ or less
Operating environment
-25 - +55℃ /35 - 85% RH(no condensation or freezing)
Power supply voltage
DC12 - 24V±10%(ripple P – P 10% or less)
Response time
300 ms or less
Current consumption
50 mA or less (excluding output current)
Weight
Approx. 140g
* 254 nm: Orc Manufacturing Co., Ltd. UV-MO2 (UV-25) 365 nm: Ushio Inc. UIT-101 (UVD-365PD)
Sensor Heads
Model *
UV-T365
UV-T254
UV-L
UV-S
Features
Heat resistant
Long sleeve
Short sleeve
Measurement range in wavelength
300 - 380 nm
170 - 380 nm
Temperature drift
−0.1%/℃ or less
Operating environment
−40 – +300℃ / 35 – 85%RH
(no condensation or freezing)
−40 – +150℃ / 35 – 85%RH
(no condensation or freezing)
Material
Ultraviolet-visible wavelength conversion glass, stainless steel
Accessories
M6 nuts, washers
* UV-T365 and UV-T254 have high sensitivity heads UV-T365W, UV-T254W.
Light Guides
Model
UV-H
UV-F
Features
Heat resistant
Free cut
Operating environment
−40 – +300℃ / 35 – 85%RH
(no condensation or freezing)
−40 – +70℃ / 35 – 85%RH
(no condensation or freezing)
Storage temperature
-40 - +70℃
Total length
2 m
(including UV protection tube)
2 m
(UV protection tube is mounted onto 1m from its end)
Material
Borosilicate glass, stainless steel
Acrylic, polyethylene, stainless steel
* Heat resistance temperature of the amplifier insertion part is+70℃
Amplifier [UV-300K]

Heat Resistant Sensor Head [UV-T254 (without Black Glass)/UV-T365 with Black Glass]

Sensor Head [UV-S (L=50±1) /UV-L (L=100±1)]

Light Guide [UV-H (Top) /UV-F (Bottom)]
Downloads
Click here for Instruction Manual
Setting Up the UV Power Monitor UV-300K