Optical Filters and Specialty Glasses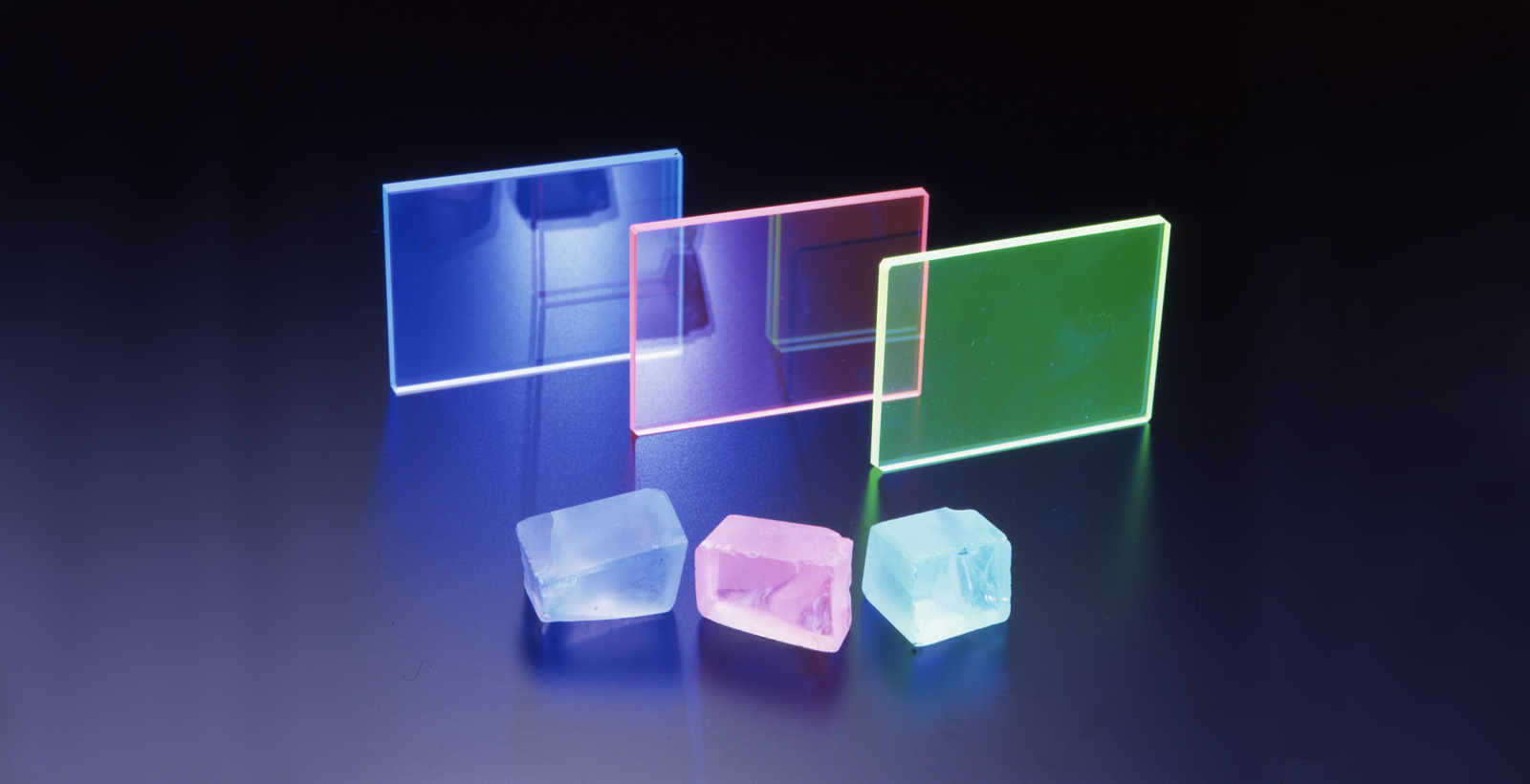 UV to Visible Light Converter Fluorescent Glasses


Lumilass
Lumilass can convert a faint UV source of 200 – 400 nm light into visible spectrum in high efficiency.
Minimum sensitivity of – 1 µW/ cm2 for all emissions.
Since a large amount of luminous ions are contained, Lumilass has high sensitivity that allows for visible light detection.
Transparent, high in homogeneity.
Lumilass has excellent machinability, so it can be processed in various forms.
Superior durability and water resistance
Lumilass keeps high performance after long-hours irradiation with ultraviolet (UV) light.
Available in red (R7), green (G9) and blue (B) emissions.
RoHS: Compliant
Application: fluorescence microscopy, excimer laser detection, a standard test material for fluorescence characteristics.
Lumilass-R7 (Red Fluorescent Glass)
Fluorescent Spectrum

Excitation Spectrum

Transmittance
Lumilass-G9 (Green Fluorescent Glass)
Fluorescent Spectrum

Excitation Spectrum

Transmittance
Lumilass-B (Blue Fluorescent Glass)
Fluorescent Spectrum

Excitation Spectrum

Transmittance
Optical Properties
| | Lumilass-R7 | Lumilass-G9 | Lumilass-B |
| --- | --- | --- | --- |
| Peak emission wavelength (nm) | 610 | 540 | 405 |
| Excitation wavelength range (nm) | 200~420 | 200~390 | 200~400 |
| Min. excitation sensitivity (µW/cm2) | ~1 | ~1 | ~1 |
| Refractive index (nd) | 1.644 | 1.694 | 1.477 |
Thermal and Machinery Properties
| | Lumilass-R7 | Lumilass-G9 | Lumilass-B |
| --- | --- | --- | --- |
| Transformation point Tg (℃) | 594 | 660 | 398 |
| Thermal expansion (α×10-7) | 86 | 73 | 176 |
| Specific gravity (S.g) | 3.77 | 3.76 | 3.65 |
| Vickers hardness (Hv) | 633 | 765 | 344 |
| Young's modules E (× 108N/m2) | 900 | 1140 | 650 |
| Modulus of rigidity G (× 108N/m2) | 340 | 440 | 250 |
Downloads