I.

Basic principles

Based on the management philosophy of Sumita Optical Glass, Inc., our environmental policy is to establish and maintain an environmental management system and to engage in conservation activities in order to minimize the environmental impact caused in the process of manufacturing various optical glasses and optical fibers.

II.

Policy

1. We will comply with relevant laws and regulations applicable to environmental matters and meet other requirements we chose to abide by, and will endeavor to live harmoniously with the local environment.
2. To reduce the environmental burden associated with our business and to prevent pollution:

a. We will strive to carry out proper processing, such as reduction of noise, prevention of dust, prevention of air and water pollution.
b. We will promote energy conservation, resource saving, waste reduction, recycling, design and marketing of environmentally conscious products, and green purchasing of office supplies.

3. In consideration of the environmental impact of our projects, we will set environmental targets to the extent technically and economically possible, regularly inspect and review, and continuously improve the environmental management system with the goal of improving our environmental performance.
4. We will promote communication with relevant government authorities and local residents and improve awareness about environmental conservation.
5. We will conduct environmental education, make internal announcements, and provide information through other channels for all employees to ensure that they understand the importance of our environmental policy and environmental preservation.
6. We will ensure that all the people working for the organization are aware of this environmental policy, and publish it on the internet and make it available to the public.
September 1st, 2018
Sumita Optical Glass, Inc.
Toshiaki Sumita - CEO
ISO14001:2015 (Environmental management system) is certified.
ISO 14001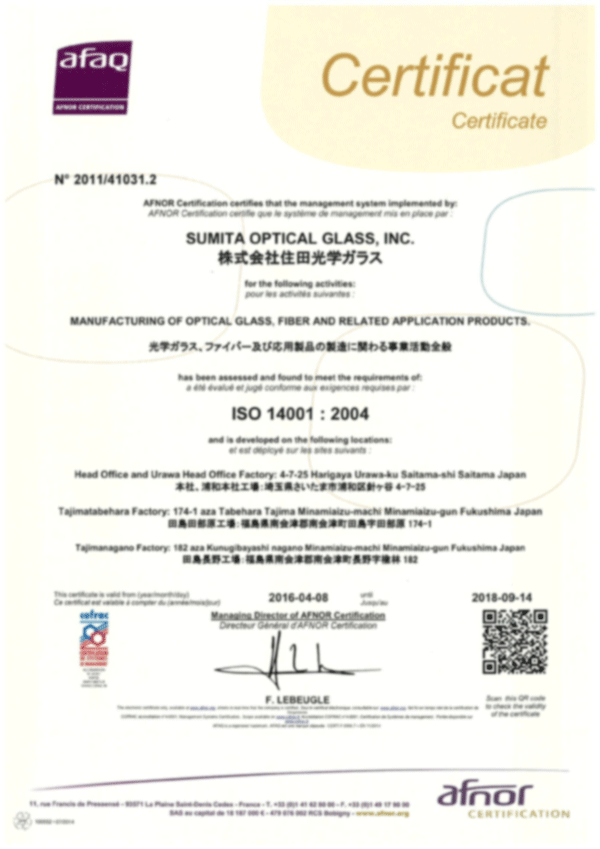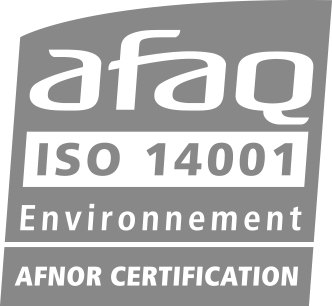 Applied Standard

ISO 14001 : 2015

Certified by

AFNOR

Registration Number

Env/2011/41031.3

Registered Applicable Range

Business relating to optical glass, fiber optics and its applied products
Our approach to Conflict Minerals
Armed groups operating in the eastern Democratic Republic of the Congo (DRC) have engaged in conflict and severe human rights abuses, fueled through proceeds from the mining or trade of so-called "conflict minerals" or 3TGs (tin, tantalum, tungsten and gold).
These atrocities led to the creation of the OECD Due Diligence Guidance for Responsible Supply Chains of Minerals from Conflict-Affected and High-Risk Areas, the US Dodd–Frank Act and other international standards. Companies are expected to source responsibly from these areas to avoid a de facto embargo, and certain companies are required to disclose their due diligence consistent with the OECD Guidance, mitigating the risk that the 3TGs they purchase may directly or indirectly fund conflict in the DRC, adjoining countries, or other high-risk areas of the world.
SUMITA is committed to responsible sourcing of 3TGs, and collaborating with our customers and suppliers to promote responsible business practices. SUMITA is tracking the metal back to the smelter and mine of origin and providing data related to the origin of 3TGs by working with our customers and suppliers.